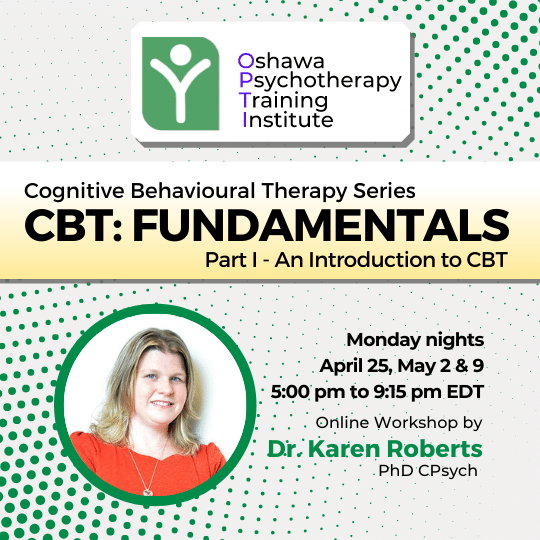 CATEGORY: Dr. Karen Roberts
CBT Fundamentals Part 1
Course Overview
This 12-hour, three-module online workshop covers the essentials of Cognitive Behavioural Therapy (CBT). CBT has been shown to be effective for a wide array of mental health difficulties, including depression, anxiety disorders, trauma, eating disorders, substance abuse, and various medical conditions. This CBT course will provide participants with core CBT skills with a specific focus on both depression and anxiety disorders.
Part 1 of this workshop series will focus on the general application of CBT, with a focus on teaching participants the basics of carrying out the therapy. Information will be presented in lecture format, with the supplemental use of role-play between participants, and video demonstration. Participants are encouraged to bring in an anonymous case summary for discussion. Ample time will be provided to review challenging cases and discuss helpful cognitive and behavioural solutions as a group.
LEARNING OUTCOMES
After completing the workshop, participants will be able to:
Understand the basics principles of CBT, assessment goals and session structure

Monitor therapy progress, prevent relapses, and prepare clients for termination

Utilize cognitive restructuring, exposure and behavourial activation techniques during sessions

Recognize and work with automatic thoughts, and core and intermediate beliefs in clients

Establish a strategy to conceptualize, formulate and approach CBT Cases
WHO SHOULD ATTEND?

This foundational workshop targets health care professionals with basic therapy experience or knowledge of Cognitive Behavioural Therapy (CBT), specifically those who are interested in learning
how to implement CBT either as an adjunct to other treatment approaches, or within a broader healthcare context.