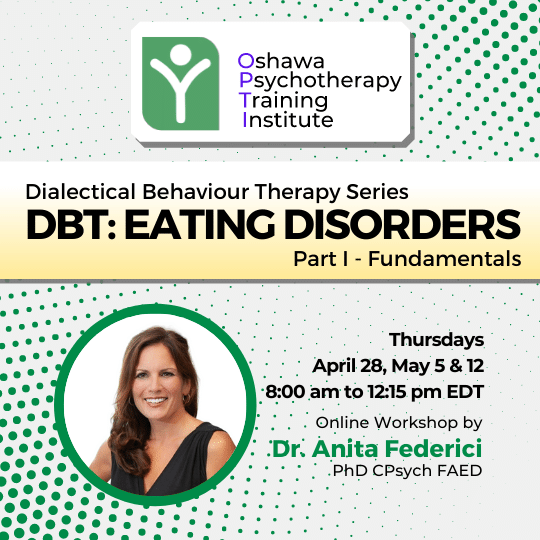 CATEGORY: Dr. Anita Federici
DBT: Eating Disorders I – Foundations
Course Overview
Dialectical Behaviour Therapy (DBT) is an important differential treatment approach for clients who do not respond to standard eating disorder interventions.  Its ability to target the complex biological and psychiatric nature of eating disorders (ED) goes beyond traditional ED protocols which were never designed to target the personality disorders and emotional regulation problems that often occur with ED clients, let alone treat complications like suicide or self-injury.
As a comprehensive, multi-modal framework for managing multiple high-risk behaviours, DBT addresses the need for an ED treatment approach that targets the chronic suicide, self-injury, trauma, and bio-temperamental characteristics that accompany individuals suffering from ED.  It also provides clinicians another avenue to address the low rates of response and high rates of relapse seen in first-line Cognitive Behavioural Therapy (CBT) treatment.
This 12-hour, three-module online workshop teaches healthcare providers how to apply the dialectical behaviour therapy approach to clients who are not responding to standard ED interventions.
LEARNING OUTCOMES
After completing the workshop, participants will be able to:
Adapt DBT skills for ED treatment

Identify clients suitable for DBT-ED and explain to them why they would benefit from this approach
Educate clients and their family members on DBT's Biosocial Theory in the ED context
Identify where ED behaviours fit on the DBT target hierarchy
Increase commitment to treatment goals using specific DBT for ED strategies
Apply dialectical strategies to help manage weight, food, and treatment goals
Adapt DBT diary cards for ED Treatment
Conduct DBT chain analysis and Missing Link analyses on purging, restricting and binge eating behaviours
WHO SHOULD ATTEND?
This workshop targets practicing health care professionals with basic dialectical behaviour therapy experience and knowledge of eating disorders; foundational DBT knowledge and basic experience treating eating disorders in a clinical setting is strongly advised.