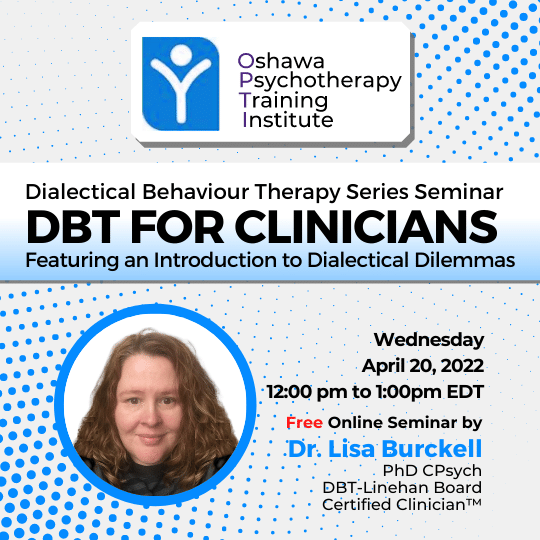 CATEGORY: Dr. Lisa Burckell
DBT for Clinicians Seminar
Course Overview
Join us for this free one-hour lunchtime meet and greet with DBT-Linehan Board of Certification Certified Clinician™ Dr. Lisa Burckell. Dr. Burckell teaches OPTI's DBT I: Foundations, DBT II: Clinical Practice and DBT III: Advanced Cases workshops.
This seminar will introduce parts of her upcoming intermediate-level DBT workshop in June, including a brief introduction to common patterns (i.e., dialectical dilemmas) that keep clients and therapists stuck.
These free online seminars are a great way to interact with some of OPTI's acclaimed workshop presenters, ask questions, and learn more about their OPTI workshops.
Learn More
Dr. Burckell returns to OPTI in June 2022 for her workshop, "DBT II: Clinical Practice", a four-module online workshop that provides intermediate-level instruction Dialectical Behaviour Therapy, covering DBT case conceptualization, with an emphasis on identifying areas where treatment gets stuck and learning strategies to help therapists and clients get "unstuck". Participants will reflect on their own clinical work, watch demonstrations, and engage in role plays to facilitate the application of these principles and strategies.
For more information please see:https://www.oshawapsychotherapytraining.com/workshop/dbt-clinical/