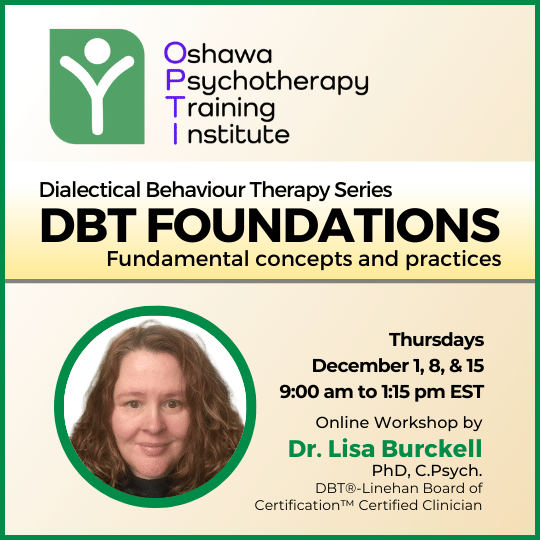 CATEGORY: Dr. Lisa Burckell
DBT Foundations
Course Overview
This 12-hour, online workshop provides a foundational overview of Dialectical Behaviour Therapy. It will cover the fundamentals of DBT, explaining the DBT biosocial theory and how to competently structure DBT sessions and also explore core treatment strategies for managing difficult behaviours and avoiding therapeutic impasses. Participants will have the opportunity to practice these skills in the workshop and learn through lecture, role-plays, and discussions that illustrate specific teaching points.
As a treatment model, DBT aims to address the following goals:
Enhancing behavioural capabilities
Improving motivation to change (by modifying inhibitions and reinforcement contingencies)
Assuring that new capabilities generalize to the natural environment
Structuring the treatment environment in the ways essential to support client and therapist capabilities
Enhancing therapist capabilities and motivation to treat clients effectively
LEARNING OUTCOMES
After completing the workshop, participants will be able to
Recognize criteria for borderline personality disorder and emotion dysregulation
Explain the biosocial model and use validation effectively
Identify key elements of a behavioural analysis and define specific treatment targets
Reinforce adaptive client behaviours and extinguish maladaptive ones
Differentiate between DBT's four skills modules and understand their role in training
WHO SHOULD ATTEND?
This foundational workshop targets health care professionals with basic therapy experience or knowledge of Dialectical Behaviour Therapy (DBT), specifically those who are interested in learning how to implement DBT either as an adjunct to other treatment approaches, or within a broader healthcare context.