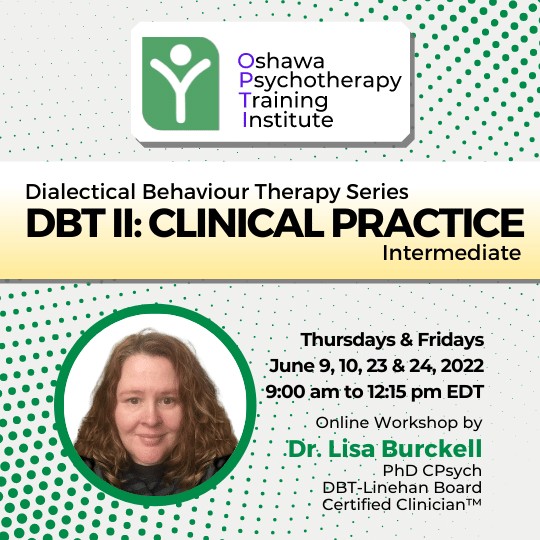 CATEGORY: Dr. Lisa Burckell
DBT II: Clinical Practice
Course Overview
This 12-hour, online workshop was developed for mental health professionals who have completed introductory level training in Dialectical Behaviour Therapy and are looking for the next steps in implementing DBT in their clinical practice. This interactive workshop relies on case conceptualization: participants are expected to have experience with clients in a clinical setting and bring real-life questions and clinical examples to the workshop for discussion and reflection. A range of teaching methods including didactics, experiential learning, small group exercises, role playing, modeling, and video demonstrations will be employed, with examples tailored to the discussions that arise in the workshop.
LEARNING OUTCOMES
After completing the workshop, participants will be able to:
Develop and conceptualize a full DBT case formulation
Reflect on problems they have encountered in DBT practice and take steps to resolve them
Implement a range of validation techniques
Coach patients effectively when they are in crisis
Employ a range of strategies for avoiding polarization
WHO SHOULD ATTEND?
This workshop is primarily designed to assist clinicians who are interested in applying DBT in part or as part of a comprehensive treatment program. A pre-requisite for this workshop is 12-hours of introductory-level training in DBT fundamentals (e.g., OPTI's DBT Foundations or its equivalent). It is advised that attendees have some access to individual therapy and/or group skills training with multi-disordered clients so as to be able to discuss and reflect upon the workshop content in an applied and practical context.