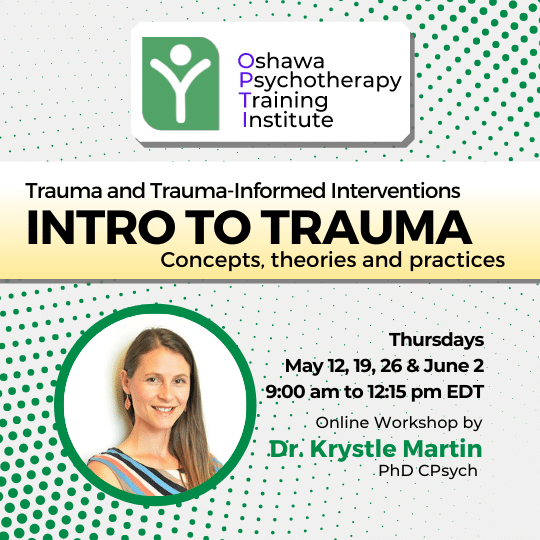 CATEGORY: Dr. Krystle Martin
Introduction to Trauma
Course Overview
Designed for health professionals who work with, or wish to work with, individuals who have a history of trauma, this 12-hour, four-module online workshop provides structured training in the common concepts, theories, and practices for supporting clients. The workshop takes an integrated, evidence-informed approach to the assessment and treatment of trauma, discussing clinical topics such as post-traumatic stress disorder (PTSD), occupational stress injury (OSI), moral injury, and sanctuary trauma. An integrated approach to intervention will be provided influenced by Prolonged Exposure Therapy (PE), Cognitive Processing Therapy (CPT), Dialectical Behaviour Therapy (DBT), Somatic Experiencing (SE), and Acceptance and Commitment Therapy (ACT).
Workshop content will be heavily influenced by Dr. Martin's trauma expertise which is mainly focused on trauma that occurs in adulthood, as well as that experienced in the workplace. Dr. Martin will share her experience working with clients who present with these issues, navigating workplace issues (e.g., RTW, WSIB), and common barriers to recovery. The workshop format will include a range of teaching methods including didactics, small group exercises, role playing, and modeling. Participants are encouraged to attend with case examples, ask questions, and take part in active discussions and small group exercises.
LEARNING OUTCOMES
After completing the workshop, participants will be able to:
Identify the symptoms of PTSD

Identify disorders and other clinical issues that commonly occur with PTSD

Learn the basics of several empirically based treatments for PTSD
WHO SHOULD ATTEND?
This workshop targets health care professionals who are wishing to expand their knowledge of trauma and enhance their practice. Rather than teach a specific manualized approach to therapy, this workshop will offer individuals an integrated, evidence-informed approach. It is advised that attendants have both experience with and access to clients in an individual therapy setting so they can reflect upon the workshop content in a practical and applied manner.